After some teething problems with the latest beta patch (BETA does mean BETA folks!) the latest version appears more stable, and closer to release.
From KiloSierra at SimHQ, "The sound is awesome! Letting the 109 warming up at around 800 RPM is really great. Minor complaint, the switch to "power-sound" is a little abrupt. Fly-by is like the real thing. Game is stuttering more for me, but I didn`t clean the cache and will have to defrag. Edit: Game looks better too, a little like RoF with this haze. And the coasts are looking better too."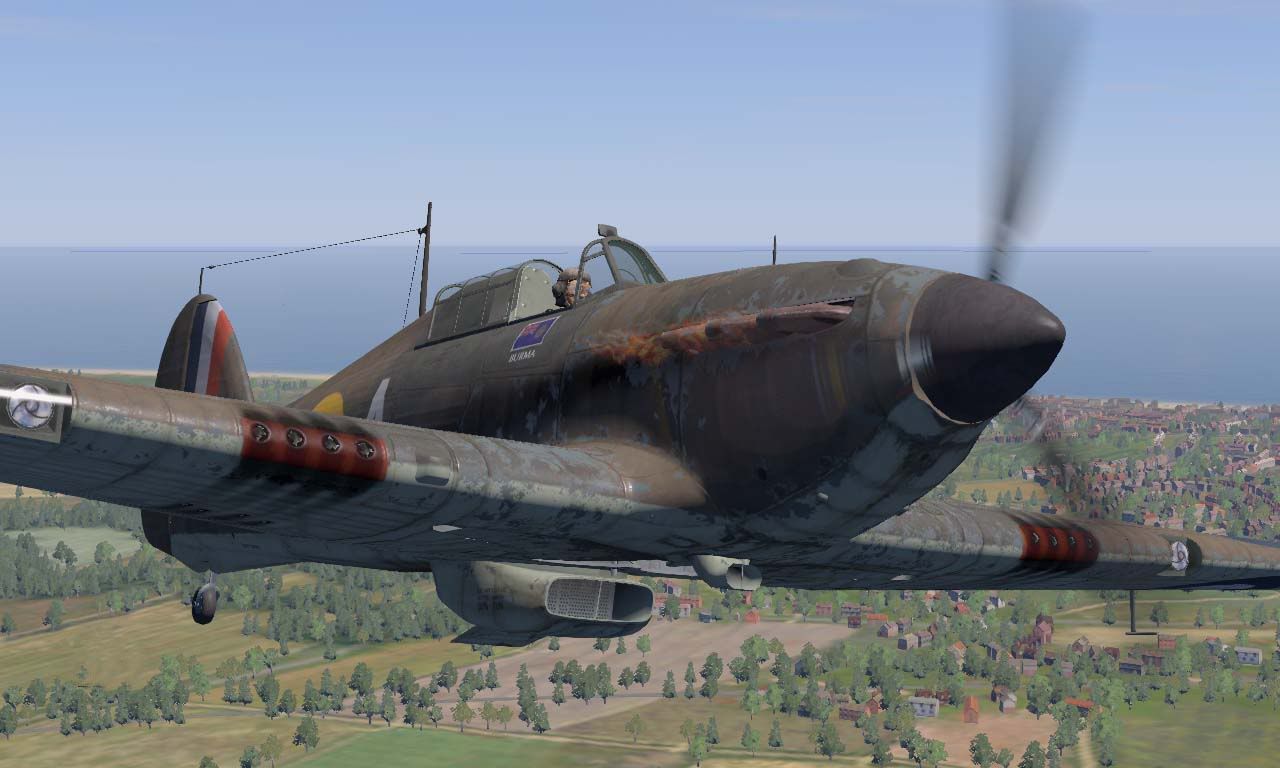 NOTES
* RUSSIAN README: Извините, не успеваем перевести!
* ENGLISH README: This readme is only partial;
* SOUND: Still working on the content for the new engine, but many of the features are already present in this build;
* MAPS: No new missions are provided for these in the beta version of the patch.
MAIN
* Drastically reworked graphic algorithms dealing with in-game color;
* Rewrote the sound engine from scratch;
* Added three new multiplayer maps: Steppe (medium), Fields (small), and Scimitar (small);
* Updated multiplayer GUI to allow users to easily select a position in an existing plane.
* Added two new aircraft - Bf. 109 E-4 and Bf. 109 E-4/B. These two are equipped with MG/FF-M cannons and so make use of the famous Minegeschoss.
AIRCRAFT - MAIN
* Reworked routines for gyro bombsights;
* Removed allusion to Engine 4 from He 111 model;
* Improved memory consumption for multi-crew aircraft;
* Airborne status is now checked correctly even if the aircraft in question departed prematurely;
* Landing status should be applied correctly when ditching in water;
VISUALS
* Reworked bombardier cockpits in aircraft so affected (He. 111 and Ju. 8
to accomodate new Lotfe gyro routines;
* Small caliber bullet hits on the ground now show difference in material being hit;
* Modifications in Blenheim's damage visuals;
* Added a range of visual SFX for higher-caliber guns;
* New bombsight visuals in Blenheim bombardier's cabin;
* Returned the famous Il-2 stall sound effect;
* Doubled the distance at which the tracers can be seen.
PHYSICS & A.I.
* Increased Lotfe bombsight gyro operational limit to 15 degrees of aircraft roll / pitch;
* Lotfe type bomb sight now stabilizes aiming platform to horizontal plane;
* Removed sudden jump in view angle when viewing through Lotfe ocular and moving bomb sight elevation for the first time in the flight;
* Increased side slip input limit to +/* 30 degrees for the Lotfe bomb sight;
* Made Kurssteuerung mode 2 for level bombers. This mode will also stabilize the aircraft in level flight;
* Reworked motor startup routines to accomodate new options available in the new sound engine;
* Adjusted ricochet angles on firm surfaces;
* Redesigned bomb sight in Blenheim and made it easier and more realistic to use;
* Blenheim bomb sight plane is now adjustable to reflect changes in plane AoA in level flight. Correction is applied automatically over a period of sustained flight and can compensate up to 3 degree changes in plane attitude;
* Fixed issue where overstress would inflict damage to airframe regardless of the Vulnerability difficulty setting.
NETWORK
* Changes to bombs' detonators setup will now be carried over once applied without the need to rejoin the server;
* Increased Lotfe bombsight gyro operational limit to 15 degrees of roll / pitch. This will give more tolerance to aircraft maneuvers as strict limits put too much obstacle to communication between bombardier and pilot while playing on-line;
* When flying as a bombardier, you should now use "Aircraft - Drop Ordnance (Bombs)" key (instead of "General - Fire Current Weapon" key) to drop bombs. This will remove confusion of on-line bombardier players who could not drop bombs using the key we're accustomed to.
AIRCRAFT - MISC.
* Decreased bombsight altitude indents by ten times. This will give you more control of the altitude input and make bomb sight aiming more precise;
* You can now switch off the boost cut-out control in Spitfires.