What is the REDUX campaign system? Unhappy with the stock campaigns in Cliffs of Dover, we created a new campaign system, which tracks your kill count throughout the campaign, updates you on victories and losses during dogfights, awards you medals and introduces random events into campaign missions.
REDUX campaigns are always deeply immersive, and missions are based on actual historical events. The REDUX campaigns are happily brought to you by Heinkill, Bolox, and Gabuzomeu.
You can get hundreds of campaigns and missions for Cliffs of Dover below.
Or go to Airwarfare.com for the latest downloads.
Just search on 'Heinkill'. Quick links at the top of the column, detailed descriptions lower down.

Battle of Britain Campaigns and mission pack links
(Luftwaffe and RAF) Battle of Britain REDUX campaigns for TF mod: on Airwarfare
Luftwaffe Operation Sealion REDUX campaign for unmodded Cliffs of Dover: on Airwarfare
Battle of Britain RAF REDUX campaign for unmodded Cliffs of Dover: on Airwarfare
_________________________
The REDUX RAF campaign for unmodded Cliffs of Dover

The RAF campaign REDUX available NOW
Mission design and storyline by Heinkill
Scripting by Bolox and Gabuzomeu
Beta testing by EAF92_Splash, Slot, and W1ndy.
Welcome to this 'redux' version of the stock Cliffs of Dover RAF campaign.

Why a 'redux'? Well, quite simply because the original plot of the RAF campaign read like it was written by a 20 year old Japanese console gamer and in the developers' rush to get the game on the market many of the missions were either badly designed or just plain broken.

The user community and 3rd party developers have stepped in and filled the campaign gap with some highly entertaining and professional single player content, but it is still offputting to new players that the stock campaign that comes with the game is just so…terrible.

What was redone?

The entire plot of the campaign has been rewritten. The campaign is now inspired by the career of real life BoB pilot 'Red' McColpin, one of the first US airmen to serve with the RAF in WWII.
Clear mission success and failure criteria have been created, together with an innovative system that displays the player's and squadron's kills and losses during the mission and throughout the campaign, and awards medals for campaign progress.
Regarding historical accuracy, an attempt has been made to recreate a sense of history as the campaign unfolds, with authentic Ministry of Defence RAF Fighter Command campaign combat reports used to provide the player with an end of day summary of theatre wide events at the end of each mission. You will relive the terrible events of summer 1940, just as they happened.
Finally, the landscape of SE England and France has been populated so that the previously empty ports of Dover, Folkestone and Calais, and combat stations Tangmere and Manston have been made into living locations, bustling with activity.
The team behind the Redux campaign mod has thoroughly enjoyed working to bring this to you. We hope you enjoy using it, as much as we enjoyed building it.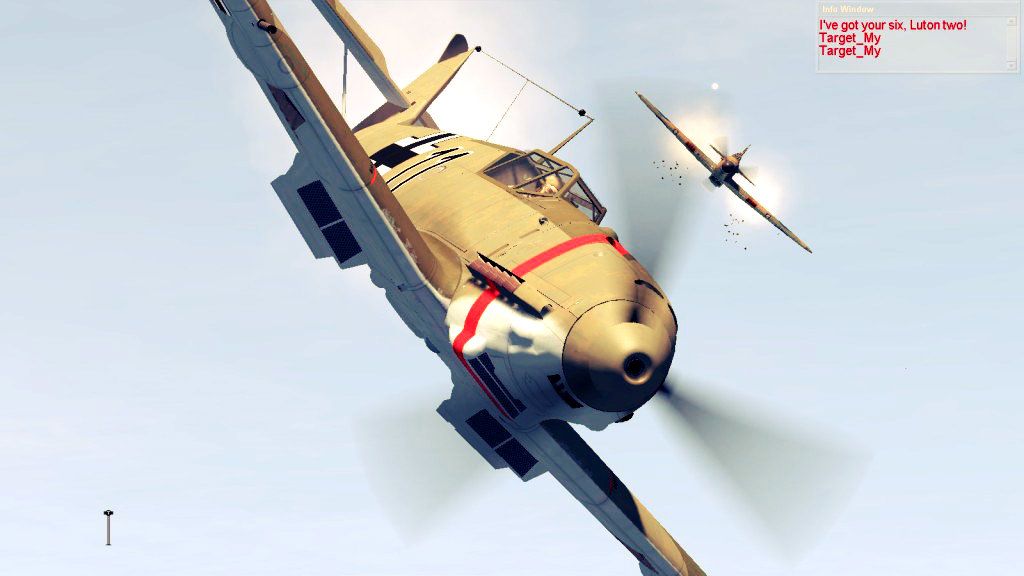 Heinkill
Bolox
Gabuzomeu
EAF92_Splash
Slot
W1ndy
35MB download here:
https://www.box.com/s/qohp1pjtokf4s84a7kgc
or
ZIP file (also containing self installer) at Airwarfare website:
http://airwarfare.com/sow/index.php/down...ed-raf-campaign


Luftwaffe REDUX campaign for unmodded Cliffs of Dover; Operation Seelöwe (Sealion)



Mission design and storyline Heinkill, scripting by Bolox and Gabuzomeu, beta testing by W1ndy and BlackLion

Download self installer (.exe) here: https://www.box.com/s/um183lta0m9n4pzwt4cq
Or ZIP install file here: http://airwarfare.com/sow/index.php/down...ampaign-seelowe

Seelöwe, or Operation Sealion, was the planned invasion of England by German forces in the Autumn of 1940.

It never happened. But what if it had?

Using REDUX campaign scripting by Bolox and Gabuzomeu, we have revisited the stock CoD Luftwaffe campaign and completely reshaped it to craft an Operation Sealion invasion campaign flown from the Luftwaffe perspective.

You will fly as a pilot in the rebellious unit Stab I (Jabo), I/JG53 – a unit of battle hardened Luftwaffe veterans who not only took on the British, but also the Nazi high command during their stay in France in 1940. In this scenario hand picked pilots, including yourselves, have been selected to form a Bf109E4b Jabo, or ground attack unit, to support ground forces in the invasion.

The Seelowe Luftwaffe REDUX campaign offers you both air to ground and air to air action, and:

- takes you from the eve of the invasion, defending the invasion fleet at Calais, to the full fury of the invasion in the skies and over the cities of England.
- features the popular REDUX scripting of Bolox and Gabuzomeu with air and ground kill counts, campaign victory totals, and medals.
combat AI settings optimised to provide best possible aerial combat experience
- missions including escort, airfield attack, sea convoy attack, shipping cover, air convoy escort, AAA and AT suppression, combat air patrol
- daily combat reports, using period photographs, track the progress of the invasion
the usual attention to ground object detail at airfields, ports and in cities. Armour and ground forces clash on the ground below as you fight in the skies above.
- historically appropriate order of battle on both sides, including Axis support by Italian forces
- compatible with TEAM FUSION mod v. 1(3)
- includes a 23 page readme with the history of Operation Sealion and the featured unit, JG53.

What's different to the popular RAF REDUX campaign?



Ground attack! This is a jabo campaign with ground and air missions, so naturally the campaign script keeps track of your ground kills, as well as your air kills.



The REDUX campaigns

for TF MOD version 4.0 and later
Hi all
The Cliffs of Dover REDUX campaigns are a set of full length campaigns for both the RAF and Luftwaffe created by Heinkill and using the unique REDUX scripting of Bolox and Gabuzomeu. These campaigns replace the inferior default campaigns supplied with the game, and are a must for all single player campaign fans.
They offer historically based campaign storylines, painstakingly researched, enable you to track your mission kills and campaign total, plus the ability to win medals and promotions as the campaigns progress.
TF Mod versions now available from the REDUX team
"We have now also updated the REDUX campaigns to make the most of the new features in the TF MOD for those using it.
This version is for use only with the TF MOD
. If you don't have the TF MOD version of Cliffs of Dover, these campaigns are available in normal versions (see links below).
REDUX campaigns feature missions designed by Heinkill, with scripting by Bolox and Gabuzomeu, giving you campaign kill counts, medals and promotions.
The TF MOD version has been enhanced with high altitude missions, new objects and different aircraft types including 100 Octane RAF and LW fighters.
This package contains both the RAF and LW campaigns, for separate install as desired. You will see 'For TF MOD' in yellow letters on the splash screen, if you have installed correctly.
If you have a campaign in progress, you can just install straight over the top and continue where you left off. More detail in the extensive README documents.
Enjoy!"
Download REDUX for TF MOD
Get BOTH the RAF and LW REDUX campaigns for TF MOD from Airwarfare, here:
http://airwarfare.com/sow/index.php/down...igns-for-tf-mod
The Battle for Malta & the Malta Megapack
Research and mission design by Heinkill
REDUX style campaign scripting by Bolox and Gabuzomeu
MTO skins from: Waler, AttFish, Wotan, V@s'OK, and Setback
Welcome to the Battle for Malta REDUX campaigns (2) and single mission sets (30 missions)! Fully TF Mod 4.2 compatible.
This package contains two Battle for Malta campaigns, one for the Axis (G.50 and Bf109E/4N) and one for the RAF (Hurricane I and Spitfire Ia 100 Oct). It also contains a single mission pack of 30 missions, with a separate briefing and mission objectives for every flyable aircraft in the mission.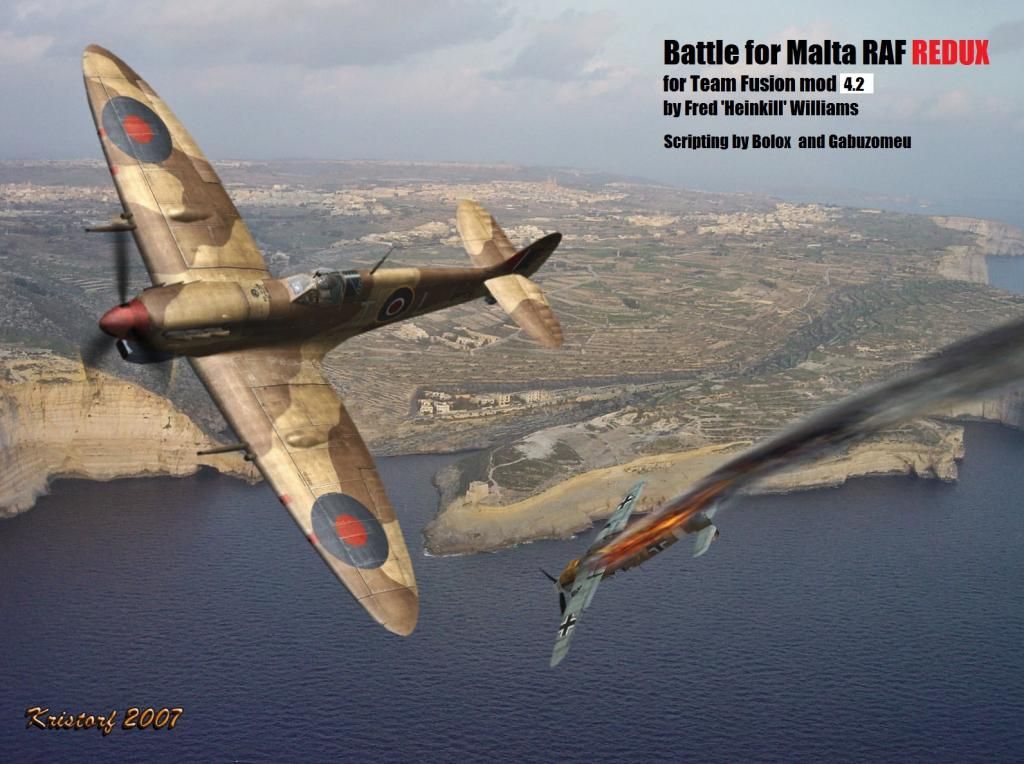 BACKGROUND
On June 10 1940 Italian leader Mussolini declared war on Britain and within hours the first bombs fell on Malta.
It was to become the most bombed location in history. More bombs fell on Malta during the seige, than fell on London during the entire Blitz.
Opposing Italy's Regia Aeronautica airforce, were a handful of RAF Gladiators. Within a couple of weeks, the first Hurricanes arrived, 'hijacked' by the Island's air commander on their way to Egypt. Within months, the Luftwaffe appeared over the island too.
The campaigns start with the arrival of the first two Hurricanes on the island. The first ten missions cover the Italian attacks. The next ten cover the arrival of the Luftwaffe. The final ten missions are based the dramatic convoy in which HMS Breconshire dashed to resupply Malta, against all odds.
All missions are based on historical records.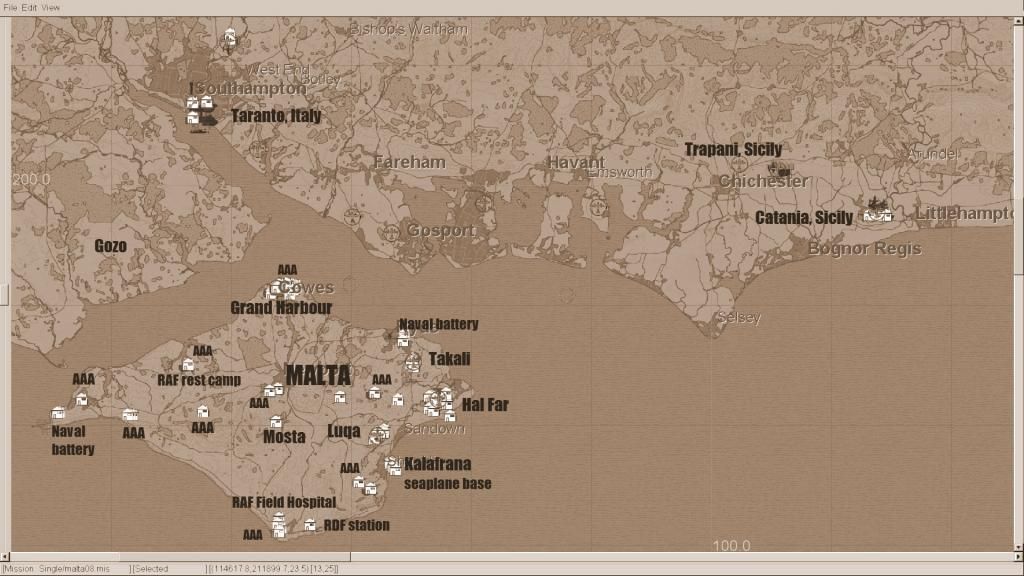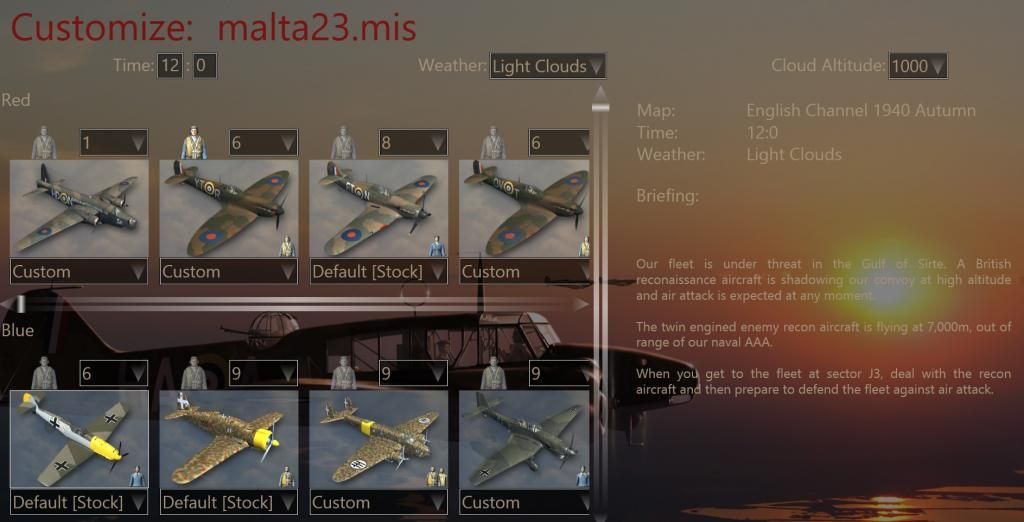 WANT THE WHOLE MEGA-PACKAGE IN ONE MEGADOWNLOAD?
All in one Malta Megapack Download with 2 campaigns, skins and single mission pack (requires Skydrive log in):
http://1drv.ms/1c70hrL
(
500MB
)
**Disclaimer: This add-on uses the existing Channel Autumn map, and is not a new map or theatre. The Isle of Wight is used as a stand-in for Malta and Axis 'Sicilian' and 'North African' airfields are of course based on the Channel map too. The planeset is the one available with Cliffs of Dover and does not include historically accurate aircraft types such as Hurricane and Spit 'Trop' marques. Skins are illustrative only. If you would like a more authentic looking 'Malta' try the mod below.***
**************
Battle for Malta Standalone Mod with Desert Textures
Want to fly over something a little more Mediterranean looking?

MALTA MOD MED LANDSCAPES DEMO
SINGLE MISSION SET ONLY,
NOT
TF MOD COMPATIBLE, THIS IS A NEW STAND ALONE MOD!
The Med Landscape Malta Mod mediterranean landscape mission demo is available here! Note, this is a demo only to show off Med landscape tiles and skins, and is not TF Mod compatible. It requires a separate install of Cliffs of Dover. Med landscape tiles by Vasiliy Kucheraviy.
The set comprises 28 missions, with more than 150 flyable sorties, each sortie with its own mission briefings and targets.
Fly for either/both the Luftwaffe, RAF or Regia Aeronautica - you choose.
Every conceivable mission type is catered for: ground attack, naval attack, scramble, fighter cover, fighter escort, bombing, dive bombing, combat air patrol, recon, check flight and massed aerial engagements. All missions are based on historical events.
1st DOWNLOAD Missions HERE:
http://airwarfare.com/sow/index.php/...sion-set-final
2nd DOWNLOAD Malta Med Landscape Mod available here, with installation instruction video -
http://simhq.com/forum/ubbthreads.php/topics/3877505/1
For an insight into the depth of the research that has gone into this mission pack, see the sample scenario description for a mission below: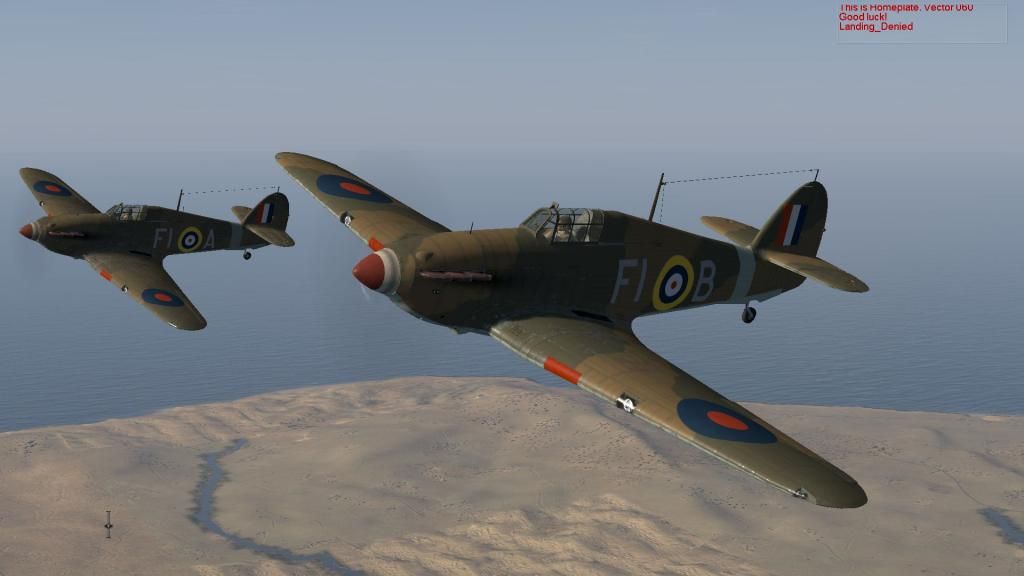 SINGLE PLAYER MISSIONS

All current BoBGameHub single missions in one download. Now totalling: 50+ missions, 200 flyable sorties in all! 8,000 downloads so far...
This is a package of historically based, painstakingly researched missions with multiple objects, busy airfields, random events, and high intensity combat gameplay.
Missions feature multiple aircraft types, all which can be played by the player, all with their own briefings, targets and objectives.

'1941: Circuses and Rhubarbs'
It is 1941.
After the inconclusive battle that was Operation Sealion, Germany has turned its attentions to the East, initiating Operation Barbarossa, the invasion of Russia.
In the West, just 226 German fighters, primarily those of JG2 and JG26, are left to defend against the constant threat of RAF bomber and fighter attacks. The RAF Air Officer Commander-in-Chief, Sholto Douglas, initiates

Operation Circus

- large scale bomber raids deep into France and Holland, with the intent of drawing the Luftwaffe into combat and reducing their ability to defend against RAF bomber command's planned incursions into Germany.
The Circuses and Rhubarbs mission pack
Available for download now as self installing file:
3 missions, all of which recreate historical events:
Flight of the Intruder

Operation Circus mission 1

A Knight Falls
Download the self installer here: https://www.box.com/s/27f8ede06b87c314652e
The Operation Circus mission recreates the first large scale air battle involving 2 wings RAF and 4 staffeln Luftwaffe over France in Jan 1941.
15 painstakingly populated airfields: LW - Wissant, Peuplinge, Audembert, Marquise West, Caffiers, Hermelingen, Campagne Les Guines, Coquelles, Calais Marck, St Omer Wizernes, St Omer Arques, St Omer Claimarais / RAF - Lympne, North Weald
3 newly populated locations: Calais and Dunkirk Ports, Cassel
Ground targets include the above airfields, road traffic, port infrastructure. As usual, the mission can be fought from the point of view of every flyable unit, by using the CUSTOM button to choose your flight. Both grounds starts and air starts catered for.
This chapter comprises around

20 flyable sorties

.
HOT:

Operation Sealion Mission Pack
The invasion of England, recreated in Cliffs of Dover from the 1972 Royal Military Academy wargame conducted using surviving senior commanders of the Luftwaffe, RAF, Kriegsmarine, Wehrmacht and British High Command. It features air warfare on a narrow front over a shifting front line driven by epic land battles. The series starts the day before the start of Operation Sealion - Sealion Day (S-tag) minus 1. A series of Single Missions, each containing several individual sorties for both RAF and LW, each with their own briefings, primary and secondary objectives and individual challenges. It has been compiled into two campaign sets (RAF or LW perspective), but was also released day by day as the missions were completed
Full set, Missions 1-28 (up to Invasion Day 10):
Teaser sets: if you just want to see what Operation Sealion is all about.
Missions include self installer and uninstaller. Each mission flyable from several points of view, so each mission is in fact several mini missions!
'Mission of the Week' 8 Pack
This is a set of 8 Single Missions with an emphasis on recreating in exacting historical detail events from the Battle of Britain. From the exact units which were involved in the mission, to the location, weather, time of day and altitude, as much as possible the missions have been recreated from actual combat reports and published sources. Each mission features an automatic installer and uninstaller which places the needed files and skins in your CoD folder for you, ready to fly.
The 8 missions in this set are:
- Day of the Condor: RAF interception of mine laying FW200 Condors
- Deere over Dunkirk: The first ever victory by a Spitfire over a Bf109
- Galland vs Allen: LW Ace Adolph Galland's battle to the death against RAF ace Johnny Allen
- McNab's darkest day: 1C Canadian squadron's famous first ever mission
- Corpo Aero: the Italian air force's most successful raid during the Battle
- Bader's Big Wing: a mission in which ace Douglas Bader claimed 20 kills for his 'Big Wing'
- Arty Holmes 'Ramming Speed': Pilot RT Holmes brings down a Do17, without his guns
- Wicks Big Day out: Helmut Wick claimed 5 kills in one day, with three in this mission
You can download these BoB GameHub mission packs individually, or get them all in the Mission Megapack.
POPULAR:

Stuka mission pack
The Stuka missions from the stock Luftwaffe campaign, lifted out so they can be played individually by Stuka nuts. Like me.
http://www.box.com/s/1bl7ugf6y2d3tlhhq1m9
BoB GameHub Tournament high-action mission pack
A series of 16 quick start missions (8 RAF, 8 LW) where you are awarded points for each kill, and deducted points for not achieving mission objectives, or losing your hapless wingman. Can you beat the Ace of Aces from the SimHQ competition of 2011? These missions are designed to played inside 15 minutes, with air starts and instant action!
http://www.box.com/s/mbl65u8uvtoaemgti2ns
Read about the tournament missions, and some tournament combat reports here
http://simhq.com/forum/ubbthreads.php/topics/3438876/CoD_Offline_Tournament_The_RAF.html#Post3438876