New bomber campaign for modded IL2
Available at M4T:
A 15 mission campaign over England in the HE111P-2 and H-2

Semi-historical campaign for Luftwaffe. You are a pilot in II/KG4 with the He 111 P-2 and H-2 in the BoB operation in three time periods, first from 09/12 to 09/23 attacking coastal airfields, second from 09/29 to 10/06 attacking airfields further inland and lastly 10/07 to September 1940 over the London Docks.


Only for M410.1 with UP3.RC4.

The original skins are in M4T
http://www.mission4today.com/index.php?name=Downloads2&file=details&id=5488
http://www.mission4today.com/index.php?name=Downloads2&file=details&id=1550
Time to drop into M4T website again!
Great new missions and content for IL2 on the M4T site, not least the fantastic news that Extreme_One's fantastic 'Battle over Britain' campaign has now been redone to work with the Channel Map!
This was the first RAF campaign for Forgotten Battles originally released in January 2004.
Now converted to play out on Cannon's Channel Map and containing various improvements and bug-fixes over the original
Starting out as a rookie pilot taking control of the Hawker Hurricane for the first time, you will undergo some basic training flights before becoming one of 'The Few'
26 missions following No 85 Squadron for a year between August
1939
and August
1940
Other users have reported that this campaign also works fine with UltraPack
Download here!
Battle over Britain by Extreme One
Review of the 352nd Channel Map
by Phillip-ed
For two years the Il-2 community patiently waited for the 1:1 scale Cross-Channel Map from the 352nd flying group. We were tempted with beautiful screenshots showing meticulously detailed airfields and equally gorgeous field textures (that even included accurate road-networks!), but concerns were raised about whether such a detailed and large map would be playable on our PC's.
I, personally, use a laptop for my gaming which has an ATI 4650 GPU and a 2.00ghz processor; so hardly groundbreaking technology. Il-2 runs really well on the highest settings, so I only hoped that this map would play just as well.
Canon's Channel Map and the Slot map both run well on my system, so I assumed that this map should run well too. Of course, with a lovely channel map already available for Il-2 (made by Canon), some people began to wonder whether this map was needed too. I can personally say that both are great additions to the game and are just not comparable. Canon's map is perfect for dogfights (both Online and Offline) and for the player who doesn't wish to spend hours flying to the mission location it is perfect for a quick mission over gorgeous scenery. T
he 352nd's map is ideal for the flight-simmer who wishes to fly a mission that is as realistic as possible; so basically for someone who wishes to fly over a full-scale map that is as detailed as can be handled by the Il-2 engine. Sometimes I have hours to spend so I can enjoy a game in real time over a landscape that is 1:1 in scale, but then again I am usually quite busy so for me both the Channel maps shine in their own right.
So did the 352nd CCM disappoint once released?
Not a chance.
Installation:
After problems installing some maps when they were released, I had expected the CCM to be another pain to install. I was wrong. For me, installation was faultless. I have always manually installed mods for Il-2, so I decided to manually install the CCM. Included were the relevant files, and the read-me was very well written and easy to understand. I simply copy and pasted the files to my Il-2 install and added the relevant lines to the relevant text files. I then loaded Il-2 and tested the map and it worked! I have to commend the 352nd group, as this for me was the easiest map installation I have ever done.
It is worth noting that when the map was released one of the files was wrong. I'd like to say that the 352nd group to a commendable job in uploading the correct file and editing the download, and it caused me no hassle what-so-ever. Having a map installation where no work was required in editing the files was a breath-of-fresh air for someone like me who can be quite stressed for time.
Playability:
With maps this large, there will always be a lot of focus on FPS and loading times. I have to say that the map, for me, does take a minute or more to load, but considering the size I don't think that this is too bad to be honest. Initially, though, I had huge FPS issues with the vast number of automatically-generated trees on the map. In my conf.ini I had my forests set to forest=2 and on changing this to 3 my FPS issues went away. Not only was the map a joy to fly on but the trees were much more detailed on this setting too! A man can hardly complain to that.
Looks:
The map sure is a stunner I have to say. The field textures, to me, are the best I have ever seen and flown over in Il-2, and being a proud resident of the UK I can safely say that they sure are accurate. However, the only downside to the textures are that they have only been used for England; leaving France with stock textures. For a flyer like me who will solely be flying over England and the Chanel this is no problem, but if one wished to fly Circus' or Rhubarbs' to France (or even to fly as the Luftwaffe) then the lack of detail on the Frog side is a bit of a shame.
Also, the map has only been populated in the ports so flying over Blighty can be a bit dull at times. For me, the field textures give me enough of a thrill (and who continuously looks at the terrain when flying anyway?) but when flying over towns, villages or cities the lack of objects can take somewhat from the immersion.
However, the 352nd Group have expressed that the map is open to work and I know that groups are working on populating the map. The 352nd Group themselves are working on ironing out any glitches present, so once this is done we may see some additions to the map or they may decide to focus their efforts on late-war version which I personally would prefer.
It is worth noting that not all of the beautiful airfields shown in updates before the maps release are included in this version as they will appear in the aforementioned late-war version.
Also, some features that Booze (from the 352nd Group) posted before did not make it into the release. This is largely due to compatibility issues, as I gather, and personally I would not have noticed whether there were lamp-posts anyway as I usually fly at Angels-20.
Clearly, despite the lack of 3D objects, the map is a stunner and I have yet to see a set of field textures on a map in any game that look more like Blighty to me. There will always be comparisons with the 1:1 scale map from the excellent game Battle-of-Britain-2-Wings-of-Victory but personally I don't find the two comparable.
This is because, when flying low, the CCM for Il-2 has a lot more trees than the map in BoB2, but at altitude one can clearly see the repetition of the field textures used on the CCM. Both maps look stunning but if realism is your thing then the map in BoB2 is for you. If, however, you love eye-candy, then you will love flying over the CCM. So flying over both maps is a joy and offers different experiences. As of yet, I have yet to play a game and get the same joy of seeing the White Cliffs of Dover as I do when flying over the 352nd's CCM.
Issues:
For a new release, I was surprised at how immaculate the map was. However, despite the install being clean and the map highly playable, there have been a few glitches that I have encountered.
One glitch, which I know is being worked on, is an odd current-system in the sea near Manston. What this causes is a wave pattern which looks like the sea is broken up by a series of parallel lines. From a distance this looks like a shift in the current, but down low it does look quite funny.
However, as aforementioned, this is being worked on and for me it really does not impair gameplay. But what does impair my gameplay, though, is an odd glitch which causes all AI aircraft to crash when they approach Hawkinge. I have been told that this is down to an error in the way the AI aircraft have been approached to land (as the waypoint it off, so they crash into the trees on a hill nearby) but it is quite annoying to be in the landing circle and see your squadron crash, one after the other. This is the only real error that I've encountered though which, in my opinion, is great as it means that there is very little work for the 352nd Group to do.
More here:
http://352ndfg.com/smf/index.php?topic=2241.0
Fantastic new Battle of Britain video by Barfly


A tribute to the classic British 1969 production, "Battle of Britain", this movie specifically re-creates some of the memorable scenes, most notably the opening credits in which senior officers review a Luftwaffe unit in France prior to the beginning of the Battle of Britain. The creation of that scene using IL2 simulation mission-building tools is an achievement in itself. The combat action is creatively directed and edited, showcasing some of the most impressive recent IL2 modifications in graphics, sound, and camera tools.
From http://flightsimmachinima.montydan.com/battle-of-britain-v2.0-by-barfly
Missions for CanonUK's BOB map abound!
FIGHTER BOYS, a RAF Battle of Britain Campaign
Designed for Cannons amazing new Channel map by Poltava! You can find it here: http://mission4today.com/index.php?name=Downloads3&file=details&id=326
It is a semi-historical, 14-mission static campaign, set in August 1940, portraying the fighting in the air that month during the Battle of Britain. The plan is to eventually make a second campaign covering the fighting in September and early October as well. (And perhaps a third one for the month of June as well.)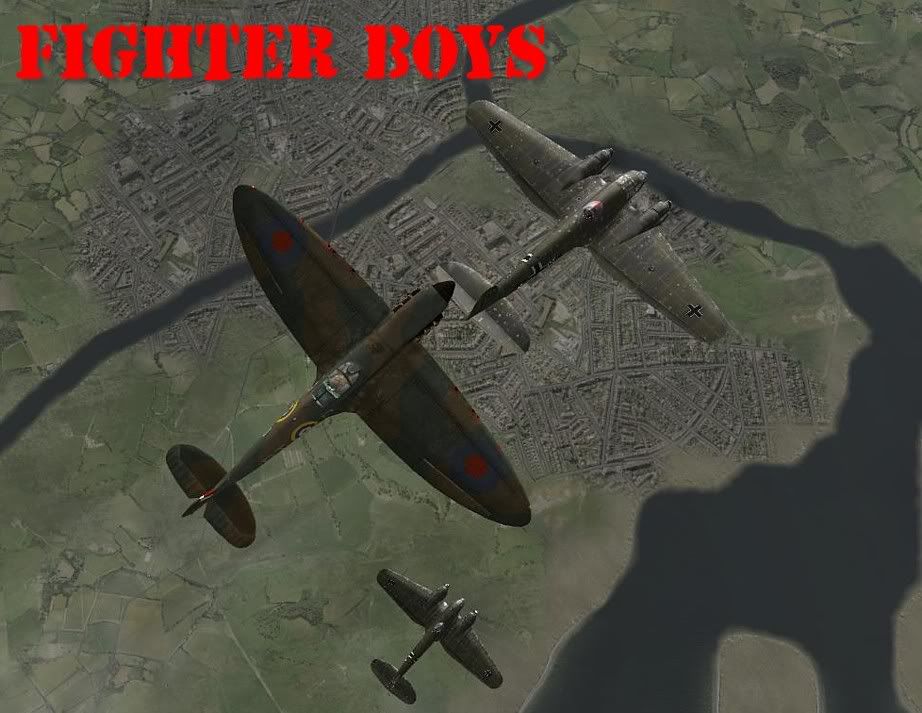 As Canons new Channel map is pretty demanding in itself on your computer, I have decided to leave out all action that you can't actually see (or possibly could see) from your cockpit. Also the amount of FLAK and movement of ground and sea units has also been kept down. What really counts is the action in the air, right? And there you will find lots of it. In some missions there are 90+ aircraft in the air at the same time.
http://i163.photobucket.com/albums/t286/Poltava/FighterBoys9.jpg
Regarding the historicity: the Spitfire Squadron in the campaign is a sort of composite of several 1940 RAF Squadrons. All missions however (except the first one) are based on history in some way, and recreates some of the action of the actual day. I have also tried to follow the actual weather. http://i163.photobucket.com/albums/t286/Poltava/FighterBoys3.jpg I have always included skins in my campaigns, but for once I have decided against it, instead sticking to the default skins. For you that thinks that the default skins are less than perfect, and that care for the looks of the game (I know I do) I strongly and enthusiastically recommend you to get two Mods that I use myself. The first one is VpMedias Skin mod, that makes it very easy to swap the games default skins for ones of your own liking. You can find it here: http://www.vpmedia.eu/il2/. The second one is McWolfs Decals shine mod, that gives you MUCH better looking markings on all aircraft, and also includes swastikas on German and Finnish aircraft.
You can find it here: http://allaircraftarcade.com/forum/viewtopic.php?t=11582&highlight=mcwolf+decal.
http://i163.photobucket.com/albums/t286/Poltava/FighterBoys2.jpg
The following people has been very helpful playtesting of this campaign, and helped me to avoid a number of errors: Condor345, DoctorWho, Bwf, Dolittle81, King Franky and Nealn. And of course I also want to send a special big, big Thank You to Cannon for his monumental effort in building this map!
Blenheim Boys by Ezzie
: IL2 Offline campaign. Semi historical 21 Missions covering 139 and 254 Sqn Blenheims from August 1939 to August 1940. Inspired by the book 'Bristol Blenheim' by Graham Walker. Uses A20C as Blenheim stand-in.
All The King's Panthers by DixieCapt and Little John
: IL2offline campaign. Non-historical. 15 missions covering a fictional Fleet Air Arm Sqn between August 1939 and October 1940.
Stuka Campaign 1940 by Poymando
: Offline Campaign. Part 1 of a 4 part series focusing on a Stuka pilot from training to the Battle of Britain.
BOB Bomber Intercept by RigaMortiz
: Coop Multiplayer Map featuring 4 each of Messerschmitt 109E4's, Heinkel He 111's, Ju87 Stukas, Hurricanes or Spitfires. BoB era skins for each.
The Mouchotte Diaries by Kalaluth
: Offline Campaign. 65 Missions, 10 tracks, 91 skins. Semi-historical campaign following the exploits of FFA pilot Rene Mouchotte, based on the book of the same name. Follows his career from BOB Biggin Hill until 1941. He died at the hands of a FW190 in 1943.
Lotnictwo Wojskowe (Volume I)
by Gamekeeper is an 85 mission static campaign that takes place from 1939-1943. Players will participate in the September 1939 German invasion of Poland flying the P.11c with the 121 Eskadra Mysliwska.
Following the capitulation of Polish military resistance, pilots
will lease their skills to the Belgian Aeronatique Militaire during
the 1940 German invasion of France and the Low Countries.
After facing a second defeat at the hands of German forces, players will join the RAF No. 303 (Polish) Squadron "Kosciuszkowski", where they will fight in the Battle of Britain flying the Hurrican Mk.I before re-equipping with the Spitfire Mk.Vb and the Spitfire Mk.IXc for operations across the English Channel along the coast of occupied France.
Preliminary review
: A good campaign both for the setting, the mission briefings and scenarios, but also for the 'instant action' set up enabling the player to enter the thick of the action straight away in almost every mission. (Unrated: leave your opinion in the
Comments
section if you have feedback on this campaign).
Download from Mission 4 Today here
My Part of the Sky by DFLion
: IL2 offline campaign. 65 Missions. Semi Historical. Focuses on the career of Roland Beamont, including 25 missions covering the Battle of France and Battle of Britain.
RAF Pilot France by FlatSpinMan
: IL2 offline campaign. 38 Missions. Semi historical Hurricane pilot covering the period from the Phoney War to Dunkirk.